LiveWise Naturals is now a proud supplier of Selestial Life products!
We have examined the products from many suppliers and we believe that the products from Selestial Life are among the best all natural outdoor protection products available today, and we are happy to be able to offer these products to you now.
If you enjoy being outside in nature, then you will be happy to know that these products contain no chemicals, no animal products, and are safe for use by your entire family.
Why would you want a chemical barrier between you and nature when you can get safe, effective protection from nature itself?

Natural Sunscreen Products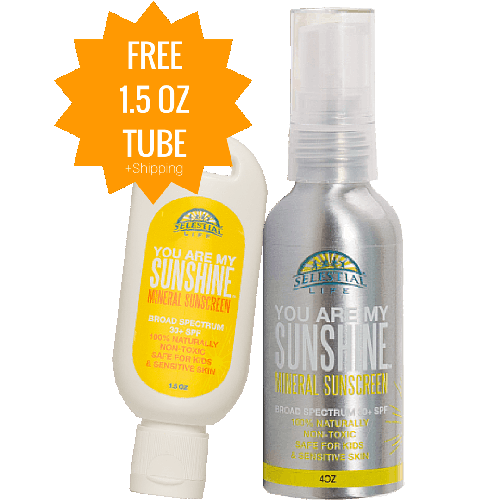 You Are My Sunshine™

100% Naturally Non-Toxic Mineral Sunscreen

Broad Spectrum 30+ SPF

Smells Great, Safe For Kids, and VERY EFFECTIVE 

Proven Non-Irritating, For Sensitive Skin

Ingredients: Water, Olive Oil, Carrot Oil, Zinc Oxide (Non-Nano), Flax Oil, Red Raspberry Seed Oil, Vitamin E, Essential Oils, and LOTS OF LOVE!
Does NOT Contain: Any Hormone or Endocrine Disrupting Chemicals like: parabens, PABA, oxybenzone or retinyl palmitate
The Problem
Mainstream sunscreens contain a variety of synthetically derived chemicals. Some of these chemicals are documented endocrine and hormone disrupting chemicals, but...they are still allowed to be used in consumer products.    It is a known fact that up to 60% of what you put on your skin can be absorbed into your bloodstream.
The Solution
'You Are My Sunshine' is a mineral sunscreen that protects you from the harmful rays of the sun with natural SPF ingredients like: Carrot Seed Oil, Red Raspberry Seed Oil, Coconut Oil, Zinc Oxide (non-nano) and beyond...  If it's not safe enough for us to put on our children, we will not put it on yours! We will not compromise our values to make money. This has always been, and will always be, a core business principal for us.

Natural Insect Repellant Products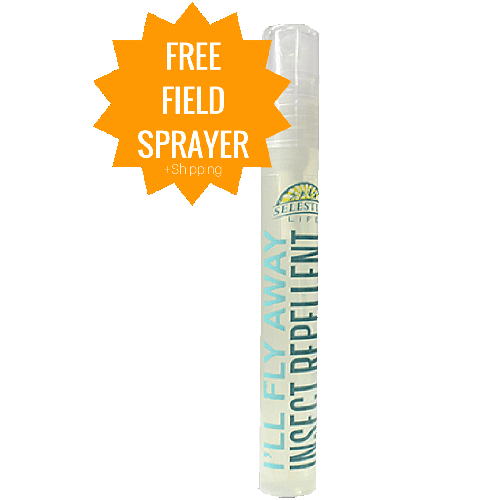 Bug Off!

100% Naturally Non-Toxic (DEET Free)

Smells Great, Safe For Kids & VERY EFFECTIVE 

Proven Non-Irritating, For Sensitive Skin

Effective Against Mosquitos, Black Flies, No-see-ums and Most Bitting Insects

Scientifically Proven To Be More Effective Than DEET

Lasts Up to 6 Hours Per Application
Ingredients: Catnip, Aloe Vera, Essential Oils (Eucalyptus, Citronella, Teatree, Lemongrass) and LOTS OF LOVE.
Mosquitoes and Black Flies absolutely hate this stuff! 
We have put this formula through significant testing over the years and your family will love the results!
We start with a potent herbal infusion and then emulsify a proprietary blend of proven bug repelling-organic essential oils! It has the pleasant smell of eucalyptus, and citronella so you won't stink like a chemical-lab experiment! Unlike conventional bug sprays, I'll Fly Away™ is actually good for your skin and can actually sooth old bug bites.  
For best results, spray liberally on clothing and hair. Spray liberally on hands and rub into face, avoiding the eyes. Reapply as needed and always after swimming. The product is baby safe and 100% Naturally Non Toxic! 
We only make this product for a few months of the year, and we always sell more than we can produce.
Supplies are limited, so grab yours now!